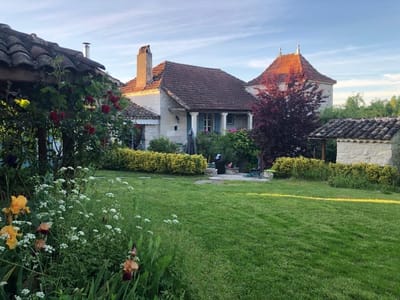 Set in a stunning and tranquil part of the Lot region in South West France, Studio Préniac hosts tutor-led creative textile and painting holidays.
We offer a range of courses created and led by experienced and well-known tutors, each of whom uses their individual styles and expertise to guide students through a week of ideation, experimentation and creativity, using the Préniac landscape and the local area as a source of inspiration. Courses are fully-catered, making the most of the wonderful local and regional produce, with all students and tutors staying on-site.
Préniac, originally an ancient hamlet, is a collection of traditional white stone buildings in the Quercynoise style. It is built around a delightful courtyard of a lovely 18th Century farmhouse, and is perfectly situated on the brow of a hill, providing stunning 360-degree views across the beautiful rolling countryside of the southern Lot. The buildings have been sympathetically converted into charming and tasteful holiday accommodation (mostly private en-suite rooms) as well as a large, well-equipped studio workshop.
Préniac is set within a large area of tranquil countryside, which includes a small lake as well as a 12 x 6 metre swimming pool with enchanting views across the valley from the sun terraces.
The immediate surrounding area is a haven for walkers and cyclists, with stunning views in all directions. It is also renowned for a large variety of flora and fauna, including an abundance of wild orchids, carpenter bees, tree frogs, wild boar and the beautiful hoopoe bird.
Close-by are many medieval/bastide towns and villages, such as Montcuq, Lauzerte and St Cirq-Lapopie. Cahors, the Prefecture of the Lot region, famous for its deep red wine, elaborate municipal gardens, the Pont Valentré (a medieval bridge with 3 towers) and the imposing Cathédrale St-Étienne, is a 20-minute drive away.