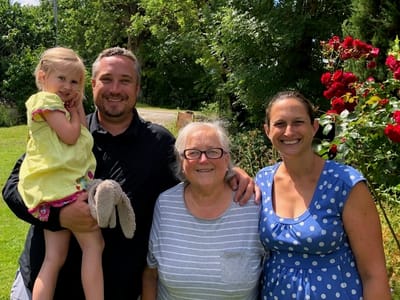 Hello! We are Chris and Nicki Boswell, and we have been the owners of Studio Préniac since October 2019.
Moving to France from the UK has been a 16-year dream for us. We fell in love with Préniac from the first moment we saw it, and we haven't looked back since we made the move. We live here with our 6-year-old daughter Millie (who attends the local primary school and is already bilingual), Chris' mum Cynthia (a member of various local cake, gardening and lunch clubs), our 8-year-old cat Winnie (a petite black softie), our two new kittens Pip and Bramble, and six rescue hens (providing us with fresh eggs on a daily basis).
Our sole focus is to provide you with a wonderful holiday where you can develop your skills and confidence, have fun, relax, unwind, and enjoy a week of creativity, good food and good company.
Prior to making the move, Chris worked in the Real Estate Industry for 15 years, and Nicki worked in Media and Marketing for 20 years. We are both passionate about travel, local culture/history, nature and food. We have been lucky enough to visit many extraordinary places across the globe, meet many wonderful people, see many endangered animals in the wild and eat delicious local produce. We are both qualified Advanced Scuba Divers and love the magical world under the water. Chris is also a passionate cook and loves to create dishes from across the world.